I always find it strange writing the first post on a blog. It seems a bit like a pretense, "Here's a blog, but it only has one post". I do hope you will all bear with us while we get this blog together. We will be posting all kinds of stuff about chooks; feeding, breeding, incubation, health care, recipes, and anything else we can think of. There will also be information about the other things we do on our farm, all the other animals we keep, farm management and basically anything else that crosses our minds.
Many of you will no doubt however be most interested in buying birds. I know this as I have been inundated with enquiries about when they will be ready. I'd like to thank you all for your patience. The birds are now ready and you can place your order on the Chooks for Sale page. I must caution you all that the demand for birds greatly outstrips supply so everybody who has enquired is not going to get birds. Each year we breed more birds, and each year we are unable to satisfy demand. For this reason we have decided to limit each order to two pullets per customer so that more people will get birds. Don't fret if you don't get birds from this first release, there will be more birds available in about three weeks.
Many people ask me why I don't take advance orders for birds. The answer is that I did that once before and it was very bad. Mostly for the very practical reason that one shouldn't count one's chickens before they hatch. If 20 eggs go in the incubator about 17 will hatch. Of those, some will be male and some female. I don't know until the birds are twelve or so weeks old exactly how many of each sex I have. So taking advance orders is a guessing game at best and certain unhappiness at worst. I have had hatches that came out 75 per cent male! Because of this I have decided that the way to go is to just wait until the birds are totally sexable and offer them for sale then.
Below is a photo of one of our roosters, Ginger. Sadly he recently got another spin of the reincarnation wheel after he was bitten by a snake and came to a rather grisly end. He was a bit of a tail feather puller so the hens won't miss him so much, and I certainly won't miss his attacks. He got me a good one with a spur puncture wound to the calf just days before he died. He didn't like me feeding his hens and would take any opportunity to send me a message via flying spurs. He also nearly beat his dad, Neo, to death a couple of months earlier. But, to be even handed about it, Neo had given him a couple of good beatings when he was younger so it was rooster payback. Ginger is now buried up on top of the hill in the Pet Sematary next to a cat named Chicken and a chicken named Lady.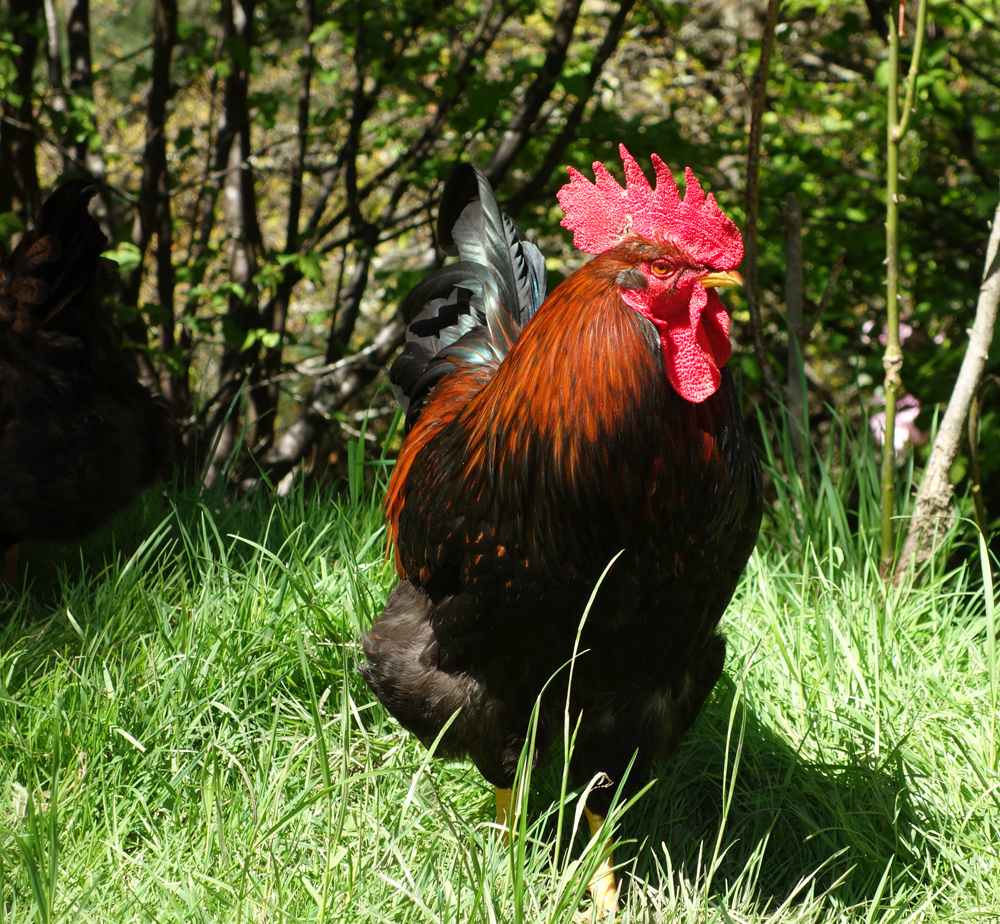 If there are any topics that you would like us to write posts about please let us know and we will do our best to oblige.